To: The Person-Centered Community

From: Natalie Rogers, Maureen O'Hara, Valerie Henderson, John Vasconcellos, Tom Greening, Bob Lucas, Georgia Berland, and Robert Schley

Dear Friends and Colleagues,

We want you to be among the first to know about an exciting event - a symposium in YEAR 2002 to honor Carl R. Rogers' 100th birthday!

(Sept 3, 2001)
Honoring 100 Years of Carl R. Rogers:
His Life, Our Work, A Global Vision!
HOSTED BY: Saybrook Graduate School
DATES: July 25th (Thursday) through July 28th (Sunday) 2002.
(July 24th, Wednesday, will be a pre-conference day for person-centered trainings or day-long institutes)
PLACE: University of California, San Diego (UCSD), La Jolla, California
(Room and meals on campus are affordable. Participants can choose to make their own off-site hotel reservations)
Join us! This is an exciting first. This is an invitation to celebrate, experience personal enrichment, and generate a personal and social agenda for the future!
We envision an international gathering where participants will have the opportunity to honor Carl by sharing their expertise in the many fields he influenced: psychotherapy, education, pastoral counseling, para-professional counseling, conflict resolution, organizational development, community programs, cross-cultural work, politics, and peace making.
An "Open Space" format will allow presentations, experiential groups, interactive groups, theoretical discussions, counseling demonstrations, person-centered group processes and reports from around the world about hands-on projects that have had community impact.
We believe the kind of honoring that Carl would want is one that demonstrates the way his research, philosophy, and values have been furthered to help people empower themselves in various fields of endeavor.

THE PURPOSE OF THE SYMPOSIUM

. To honor Carl and his work;
. To reconnect with friends and colleagues
. To revitalize and further creative uses of the person-centered approach;
. To learn from one another both experientially and theoretically;
. To have an uplifting, energizing, transformative experience;
. To meet each other, and network our ideas and programs;
. To attract youth to this philosophy, practice and value system;
. To strengthen the movement which will keep Carl's work alive and growing throughout the world.
FORMAT

. Themes (education, psychotherapy, conflict resolution, etc.) and theme convenors to facilitate programming and dialogue;
. Open Space Format to allow creative ways to come together;
. Presentations, interactive dialogue, conversations, panels;
. On-going small groups or encounter groups;
. Counseling demonstrations from various perspectives;
. Networking areas;
. We will ask that persons presenting to compose a 3-5 page statement regarding their work, to post on Rogers Symposium Website in advance. Reading these documents before the conference will enrich the experience for all of us.
PARTICIPATION
We invite: presentations, experiential groups, interactive groups, theoretical discussions, counseling demonstrations, person-centered group processes, and reports from around the world about hands-on projects that have had community impact. There are four ways you can participate:
1. Send your presentation proposal to the Theme Convener of your choice on or before January 31st, 2002
2. Come prepared to offer your expertise in Open Space scheduling
3. Just come to contribute, connect, learn
4. Visit our website to read and discuss the collected papers
WORLDWIDE PARTICIPATION IN SYMPOSIUM
Registrations for the Carl R Rogers 2002 symposium are now (Oct, 2001) confirmed from participants in Japan, China, Russia, Mexico, Chile, Austria, Scotland, England, and Switzerland, and from the following U.S. states: California, Colorado, Georgia, Illinois, Massachusetts, and New York.

THEMES AND CONVENORS

We invite you to give a presentation by contacting the theme convener of your topic, on or before Jan 31, 2002
Education—Kindergarten through 12th grade –H. Jerome Freiberg
Education—Higher Education – Colin Lago
Counseling and Psychotherapy – Elke Lambers & David Mearns
Organizational Transformation – Maureen O'Hara
Health, Healing and Spiritual Life – Valerie Henderson
Expressive Arts – Natalie Rogers
Peace and Conflict Resolution –Steve Olweean
Politics, Civil Engagement and Diversity – John Vasconcellos & Alberto Segrera
Research – Art Bohart
THE SITE

The gathering will be held on the beautiful San Diego Campus of the University of California. In addition to its magnificent La Jolla location overlooking the Pacific Ocean, and as the site of many of Carl's workshops over the years, the campus has historical significance to the person-centered movement.
THE COST

The tuition is reasonable. Register early and save money.
If you register by:
Oct .31, tuition is $280
Dec. 31, tuition is $330.
Feb. 28, 2002 tuition is $380
Apr. 20,2002 tuition is $430
On site tuition is $480
HOUSING

Reasonably priced and comfortable housing is available on the University of California San Diego Campus within a short walking distance of the meeting site. The form meant to be completed and faxed or mailed to UCSD is now available on the Symposium website www.Saybrook.edu/crr. Campus housing and meals are sold as a package plan: four nights starting Wednesday night, July 24th and ending on Sunday morning, July 28th, 2002 starting at $249. If you wish to stay at UCSD you must make room reservations in advance.
A hotel list is also available on the website.
POSSIBLE RESOURCES AND DISPLAYS

These are tentative ideas open for suggestions. It will take world-wide cooperation to make this vision come true.
. Book display and sales of all in-print publications related to Carl Rogers and the client-entered/person-centered approach;
. A cooperative effort to create a mega-bibliography with all books and articles in all languages ever published related to
client-centered/person-centered work;
. A theater area with films and videos of Carl's many interviews and encounter groups. This could include videos of your
work as well.
. Photo display wall from Carl's files, the Archives, and your pictures to create a collage of his life and work;
. Display of Carl's awards.
FOR WHOM IS THIS SYMPOSIUM?

Everybody - Worldwide!
Psychotherapists and therapists in training
The American and International Person-Centered Networks
Teachers, educators, healthcare professionals
Psychologists, counselors, mental health practitioners
Cross-cultural facilitators
Conflict resolution facilitators and mediators
Expressive arts facilitators
Peace promoters
Politicians
Organizational development consultants
Managers and human resource professionals
Students in all fields listed above
Researchers in all fields listed above
EXPECTED OUTCOMES

- An acknowledgement and reaffirmation of the significance of Carl's work in the world
- Furthering the development of the bibliography of the works by Carl, about Carl, and person-centered approaches in all languages
- A linking of the person-centered organizations for further collaboration
- A document putting forth a future agenda to keep this work growing
- A website containing all the above material, and more
- A publication of selected conference proceedings
PRE-SYMPOSIUM INSTITUTES, Wednesday, July 24th

These are extra fee, ($150) daylong programs. (10am-5pm) open to the public.
Dr. H. Jerome Freiberg: Culture, Climate and School Violence
Dr. Natalie Rogers & Shellee Davis: Opening Our Heart through Expressive Art
Dr. Gene Gendlin: Focusing Partnerships: Overcoming the Atomization of Our Society
Dr. Mukti Khanna: Revealing Our Cultural Stories: Towards Community Transformation
Steve Olweean: Person to Person: Sharing Tools for Personal and Global Harmony
· Other Institutes will be listed on our website as they are arranged.
BOOKSTORE ARRANGEMENTS

The UCSD Campus bookstore will serve as the Symposium bookstore. They are willing to work with anyone bringing their own books, or have their buyer work with booklists that people provide. For more information on bringing your books to the Symposium or getting books added to the list, please contact Robert Schley, Symposium Coordinator at crrogers2002@saybrook.edu.
SPONSORS (If you would like your Institution to be listed here, let us know)

Association for the Development of the Person-Centered Approach
Association of Humanistic Psychology
Association of the Integration of the Whole Person
American Psychological Association, Division 32
California Institute of Integral Studies
Center for Attitudinal Healing
Center for Studies of the Person
Institute of Transpersonal Psychology
Pacific Graduate School
Person-Centered Expressive Therapy Institute
Saybrook Graduate School
University of Rochester
West Georgia State University
World Association for Person-Centered Counseling and Psychotherapy
SCHOLARSHIP FUND: DONATIONS REQUESTED
As is the tradition in PCA conferences, we invite donations to provide scholarships for international students and scholars. If you can offer a donation please contact our conference coordinator, Robert Schley, at crrogers2002@saybrook.edu

or any of the steering committee members listed below.

We need your help! Many thanks.
HOW YOU CAN HELP

Pass this information on to appropriate colleagues, students, and friends. (This might include translating it into your own language)

Let us know if your Institution would like to consider being a co-sponsor of this event. Please give us the name and address (e-mail if possible) of the person to contact. We will send a letter regarding the responsibilities and benefits of being of a co-sponsor.

Please let us know of people or organizations likely to fund students from your area or give money for scholarships for individuals coming from countries with an unfavorable exchange rate

We welcome your ideas and a reply!
FOR MORE INFORMATION AND TO REGISTER CONTACT

Robert Schley, Coordinator for this symposium, crrogers2002@saybrook.edu
Phone: +1 415 3946160
The Steering Committee for the Carl R. Rogers 2002 Symposium
Tom Greening, editor, Journal of Humanistic Psychology
Valerie Henderson, Center for Attitudinal Healing
Bob Lucas, producer/editor
Maureen O'Hara, president, Saybrook Graduate School
Steve Olweean, president, Association for Humanistic Psychology
Natalie Rogers, founder, Person-Centered Expressive Therapy Institute
John Vasconcellos, California State Senator
We look forward to your participation and our mutual celebration!
To get more information and to REGISTER, please visit our



Website: www.Saybrook.edu/crr/

PowerPoint Presentation and discussion:
Peter F. Schmid
The Characteristics of a Person-Centered Approach to Therapy and Counseling
Criteria for Identity and Coherence

Overview presentations Peter F. Schmid

Counseling and Psychotherapy Colloquium: Thursday, July 25th, 2.00 p.m.-5.30 p.m.
Art Bohart • Barbara Brodley • Germain Lietaer • Shoji Murayama • Charlie O'Leary
Peter F. Schmid • Brian Thorne • Martin van Kalmthout • Margaret Warner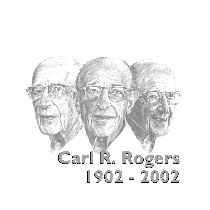 Div. Tagungen zu 100 Jahre Carl Rogers | Carl Rogers Anniversary - conferences worldwide


International events


International links


Hauptseite Peter F. Schmid


English mainpage


Page d'arrivée en français


Página central

Zum Seitenanfang | top of page